Our church maintains a public bookstore and reading area at 176 East Main Street, next to the Varsity Theatre in downtown Ashland, open Monday, Tuesday, Thursday, & Saturday from noon to 4 p.m.  Please call to confirm hours, 541-482-2802.
The community is welcome to use this spiritual resource center to explore the teachings of Christian Science and to read or purchase The Christian Science Monitor. This Pulitzer-prize winning international newspaper, founded by Mary Baker Eddy, is devoted to covering world events in a balanced and unbiased manner.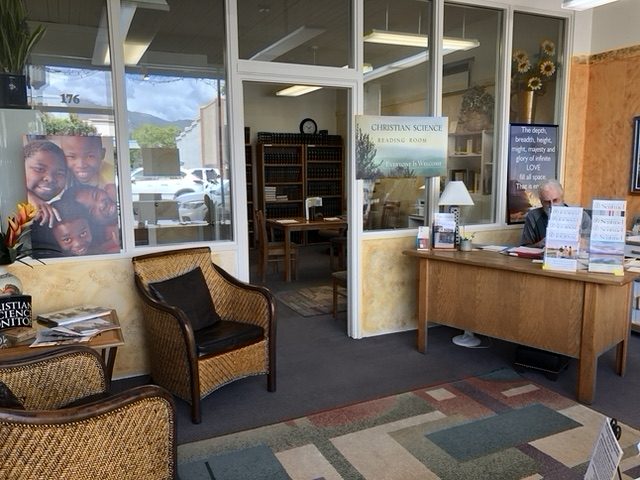 Also available to read and/or purchase are current copies of the Christian Science periodicals: The Christian Science Journal, Sentinel, Herald, and Quarterly (weekly Bible Lessons). In bound volume form are periodicals going back to the early 1900s–each containing verified accounts of Christian Science healing.
A computer is available for visitors to read online versions of the Christian Science periodicals — current and historical — and hear audio chats through JSH-Online.  Visitors are also welcome to explore a wealth of other inspirational, healing online resources on ChristianScience.com, including Christian Science lectures, and to do in-depth study using Concord, a digital research tool for study of the Bible, Eddy's published writings, and Christian Science hymnals.